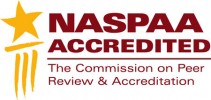 The Master of Public Administration (MPA) at Rutgers–Camden offers evening, on-campus classes. The MPA degree prepares students for management and leadership positions in government, the nonprofit organizations. 
Our MPA program offers small classes, expert advising and mentoring, and the opportunity to work closely with our distinguished faculty. 
MPA students with at least a 3.7 GPA are eligible to participate in Pi Alpha Alpha, the national honor society for public administration and service.  The Rutgers-Camden MPA and EMPA programs in New Jersey are fully accredited by the Network of Schools of Public Policy, Affairs, and Administration (NASPAA).   
Completing the MPA Degree
The MPA program is a professional 42-credit, two-year full-time, or four-year part-time graduate degree.  Part-time and working students make up a significant portion of the student population and average six-to-nine semesters for degree completion.
All MPA students complete the seven-course "Core of Common Knowledge" courses that lay a foundation for professional work in public service.  Students then choose a specialization from among the following:
Executive MPA (EMPA) Program
The Executive MPA program is an accelerated program designed for mid-career professionals to be completed in two years.  To be eligible, applicants must have at least five or more years of public or nonprofit management experience.  Courses are offered at Mercer County Community College in West Windsor, New Jersey on Saturday mornings, and taught in a hybrid (in-person and online) format.

Read more from our program alumni 
Read more about what our MPA alumni are saying about the Rutgers–Camden MPA program.