The Department of Public Policy and Administration celebrates the life and work of Dr. Robert F. Bailey with the annual Robert F. Bailey Memorial Lecture.  Bob Bailey was a cherished member of the Rutgers–Camden Department of Public Policy and Administration. The Bailey Lecture was established to recognize the contributions he made to our students, his colleagues, our campus, and Rutgers University. 
Lecture Speaker: Dr. Stefan M. Bradley
Title of Talk: "Upending the Ivory Tower:  Black Student Activism Then and Now"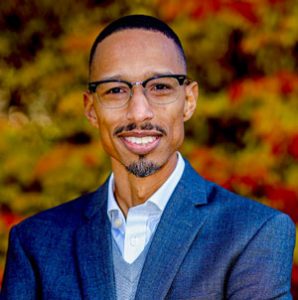 Stefan M. Bradley is professor of Black Studies and History at Amherst College. He is the recipient of numerous awards and commendations for his scholarship, teaching, leadership, and service. Originally from Yakima, Washington, Bradley researches the effects of student activism on college campuses. He is author of the prize-winning monographs "Upending the Ivory Tower: Civil Rights, Black Power, and the Ivy League," and "Harlem vs. Columbia University: Black Student Power in the Late 1960s." Bradley is co-editor of "Alpha Phi Alpha: A Legacy of Greatness, The Demands of Transcendence."
Event Details:
Date: March 30, 2022
Time: 5 – 9 p.m.
Location: Rutgers–Camden Campus Center, Multi-Purpose Room
COVID Policy: ALL attendees are still required to wear a mask into the Campus Center. All attendees will also be required to show proof of full vaccination OR a COVID-19 negative PCR test taken within 72 hours of the event and bring proof of the negative result to the event. Please bring a valid photo ID (driver's license or Rutgers ID) that matches the vaccination card or negative PCR test. After your credentials are verified, you can enter the MPR room and remove your mask.
Registration:
All are welcome, but registration is required below: