Greg Archetto
Greg Archetto, a 2005 Rutgers-Camden MPA graduate, was featured in a news article from Rutgers-Camden NewsNow.
John Froonjian
John Froonjian and James Garnett recently had the article, "Reaching the Hard to Reach," published in the International Journal of Public Administration.
Bryan Morton
Rutgers-Camden Urban Studies and MPA graduate Bryan Morton was featured in this edition of National Public Radio's "All Things Considered."  Bryan talks about his work bringing little league baseball back to North Camden youth.
Spencer T. Clayton
Ph.D. student Spencer T. Clayton has been awarded a highly competitive Eagleton Fellowship for the 2013-2014 academic year. The fellowship program is offered by the Eagleton Institute for Politics at Rutgers University and links select graduate students to internships in government and the nonprofit sector where they complement their studies with "real-life" practical experience in government and politics.
Andrea Walls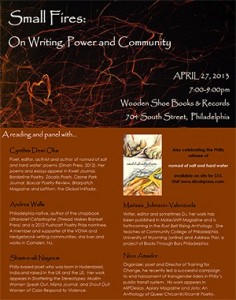 Poet, writer and Urban Studies major Andrea Walls discussed her work at an event hosted by Wooden Shoe Books at 704 South Street in Philadelphia as part of a panel of writers, including Cynthia Dewi Oka, Marissa Johnson-Valenzuela, Sham-E-Ali Nayeem and Nico Amador, convened by Thread Makes Blanket Press.  The was titled event, "Small Fires: On Writing, Power and Community."  
View more information about the event.
John Froonjian
MPA student John Froonjian is lead author on an article titled, "Reaching the Hard to Reach: Drawing Lessons from Research and Practice," (co-authored with emeritus Professor of Public Administration, Dr. Jim Garnett) to be published in the next issue of the peer-reviewed journal, International Journal of Public Administration.  This research started out as a Rutgers Special Problems in Public Administration course project.  We will post a link to information about the article when it is available; in the meantime, here is the abstract:
"Communicating to citizens, stakeholders, or service clients is challenging under normal circumstances.  Reaching government audiences who are hard to reach because of language or culture differences, lifestyle unpredictability, mistrust, isolation, or other reasons compounds the difficulty.  This article examines who are the hard to reach, addresses reasons why it is important for governments to reach them, explores research and experience, suggests effective approaches for reaching these audiences?drawing upon a social constructionist approach?and proposes lessons and guidelines for public sector communicators.   Communication practice and research indicate that more effective strategies include: utilizing knowledge about target audiences, forming partnerships with agencies and individuals that interact with targeted populations; utilizing children to reach parents and older relatives; using ethnic media that effectively reach immigrant and ethnic minority households, and simplifying communication and using feedback techniques."
Congratulations, John!
Alyssa Yackle and Beatrix Jackson
Alyssa Yackle and Beatrix Jackson, together with Ailec Vega, M.S., co-authored a new report, Bridge of Knowledge – Linking Intergenerational Exchange and Mental Stimulation: A Community Pilot Project for the Elderly in Old Havana Cuba.  The research for the report was coordinated under the auspices of the Rutgers-Camden Community Leadership Center and the leadership of Center Director, Dr. Gloria Bonilla-Santiago, and DPPA Professor, Dr. Eduardo J. Gomez.
Ashley Nickels
Public Affairs Ph.D. candidate Ashley Nickels was interviewed about her research at the 2013 Annual Meeting of the Association for Public Policy and Management held in Baltimore, Maryland. 
Geocondo Idrovo and Natasha Young
MPA students Geoconda Idrovo (middle, in red dress) and Natasha Young (on right, in white shirt) are doing their overseas service in Puerto Rico at the Centro para Puerto Rico (the programmatic arm of the Sila M. Calderón Foundation).
They are working on two projects. The first is a feasibility study for a Rutgers MPA on the island, to focus on community development. They have done data collection and are helping to produce a lengthy proposal for program accreditation. 
The second project is to expand the center's Green Market initiative (Mercado Verde). The project gives women in agriculture a space for selling and marketing their products. The project also includes a focus on sustainable agriculture, including workshops to promote urban farming, the sharing of new techniques, and encouraging consumption of locally grown food. This project has given Natasha and Geoconda the chance to collaborate with community organizations, university professors, technical experts, and local business owners to develop a strategy for accomplishing the goals of the project. 
When not hard at work they're at the beach of course – enjoying the year round sunshine and contemplating how life could possibly get any better.
Patricia Ciorici
Patricia Ciorici (Public Affairs Ph.D. candidate) and department chair Patrice Mareschal, presented a co-authored paper: "Against All Odds: Civic Engagement and Power Building in an Invisible Workforce," at the International CRIMT (Research Centre on Globalization and Work) Conference, in Montreal, Canada, October 2012.  This paper examines how home care workers in Oregon, a predominantly female, geographically dispersed, and economically under-valued workforce were brought together to experience the power of direct political action, shape public policy, and extend their reach beyond the union to other civic and social groups.
Erik Estrada
In 2010, Erik Estrada, Public Affairs Ph.D. candidate and Project Officer of New Jersey Health Initiatives, a Robert Wood Johnson Foundation project, received a National Urban Fellowship.  The NUF is a highly selective leadership development program for talented people of color and women interested in public service, social justice and equity.  Erik was featured in the 2012 impact report of the National Urban Fellows Program.